From Mexican jungles to New Hampshire streets: Crystal meth is here
Feb 20, 2021 Updated Feb 21, 2021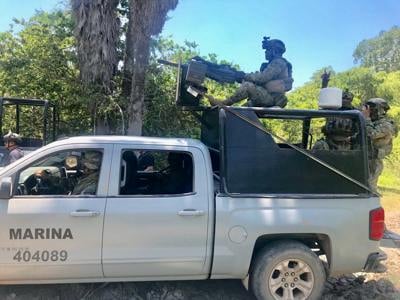 They traveled under heavy security, uniformed soldiers flanking them in pickup trucks with mounted .50-caliber guns. Deep in the jungle, they found it: a clandestine lab, where vats of caustic chemicals were being transformed into the Sinaloa drug cartel's latest business venture — crystal methamphetamine.
Jon DeLena, associate special agent in charge for the New England field division of the Drug Enforcement Administration, had organized the 2019 trip to Mexico for law enforcement officials from his region. Soon after they arrived, they visited the site of a coordinated enforcement operation by DEA in Mexico and the Mexican military.
What they saw stunned them.
"This is a lab in the middle of this jungle that was producing seven tons of crystal meth every three days," DeLena said. "That's just one lab in Mexico."
"This is where it starts," he said.
U.S. Marshal Nick Willard, a former Manchester police chief, said, "What we saw in the jungles of Sinaloa was 'Breaking Bad' on steroids."
"And all of it, 100% of it, was destined for the United States of America. That was chilling."
With a business acumen rivaling the most successful entrepreneurs, drug lords who previously pushed heroin and fentanyl are now marketing new versions of crystal methamphetamine to customers here — including youngsters — according to the DEA.
New Hampshire law enforcement officers say street arrests increasingly are turning up meth in addition to synthetic opioids. Ambulance crews are encountering more violence from individuals suffering from the sleep deprivation and paranoia the drug provokes.
And the death toll is rising.
Ten years into the opioid epidemic, fentanyl is still responsible for most fatal overdoses in New Hampshire. But the number of deaths involving methamphetamine has spiked, according to the state's Office of Chief Medical Examiner: 52 deaths both last year and the year before.
The Mexican drug cartels, DeLena said, "have better research and development than any Fortune 500 company."
"They study trends," he said. "None of this happens by accident. It doesn't just appear here. They create a market and they demand results."
'Two worlds have collided'
Most of the methamphetamine-related deaths in New Hampshire last year involved both meth and other drugs. Just 10 involved meth alone, and 33 of the 49 also involved fentanyl.
That's no surprise to DeLena.
For years, the cartels have been trying to push crystal meth in New England, "but it's never really taken a stronghold," the DEA agent said. Drug dealers found willing markets on the West Coast and the Midwest, but in New Hampshire, heroin and later fentanyl became the drugs of choice.
The worlds of crystal meth and opioids never really interacted, DeLena said.
That has changed.
Drug dealers are now pushing meth to counter the paralyzing lows of opioid use, DeLena said. "All of a sudden, these two worlds have collided and they are coming together," he said.
No one was clamoring for crystal meth in New Hampshire, DeLena said. "This was a cartel-driven decision. They are the ones that jammed this product onto the market and pushed it out and have now found a willing user for it."
The cartels also are using pill-pressing machines to manufacture what appear to be legitimate prescription medications, DeLena said. They did that early in the opioid epidemic, making pills that looked like prescription painkillers but actually contained heroin and later fentanyl.
"They're doing it now with Adderall and making it with nothing but crystal meth," DeLena said.
Here's what makes that truly frightening:
"Most of the people that are using Adderall are children," DeLena said. "So if the cartels are now manufacturing pills to look like Adderall and making it with nothing but meth inside … they're targeting our children."
'Outlets on palm trees'
In recent years, the state forensic lab has seen an exponential increase in the number of drug cases involving methamphetamine. In 2015, 182 cases were submitted to the lab; the next year, that doubled to 404, and in 2017 it doubled again, to 834, according to state police.
Last year, 1,118 cases sent to the state crime lab involved methamphetamine. Compare that to fentanyl, which was identified in 1,593 cases submitted to the state lab in 2020.
Many samples are testing positive for multiple drugs, something that Col. Nathan Noyes, head of the state police, said is new. "The combination of drugs is certainly something unlike what we've really seen in the past," he said.
Sgt. Jared Yaris, a supervisor in the street crime unit of Manchester police's special enforcement division, said patrol officers have been seizing more crystal meth in street arrests. "If we're finding fentanyl, there's a very high probability that we're also going to find methamphetamine on them," he said.
Users tell police they rely on meth to help them come back up from using opioids, Yaris said. The amount of meth on the street is deeply concerning, he said.
"We're seeing patrol-level arrests where you get a couple grams of fentanyl, but you're getting an ounce of methamphetamine," he said. "That's a pretty large quantity for a street-level bust."
Jonathan Hurtig, chief federal probation officer for New Hampshire, said that 2019 Mexico trip "just amazed me."
"You're in the middle of the jungle and yet you see electrical outlets on palm trees. You see huge generators that you would see operating major factories.
"They're producing quantities like a pharmaceutical company," he said.
New Hampshire has made significant strides in treating opioid addiction, Hurtig said, including the expansion of medication-assisted treatment (MAT), which blocks the opioid receptors in the brain.
The cartels took notice, he said. "They're seeing the U.S.' efforts in combating opiate addiction," he said. "Like a smart Fortune 500 company, they're looking to change their business plan."
Unlike fentanyl, crystal meth is not blocked by MAT, he said. "We're seeing a lot of former opiate addicts that are on medication-assisted treatment, and they can then use methamphetamine and still get high," he said. "They're chasing that high, and this offers that."
'Their teeth start to rot away'
Meth is showing up more frequently in urine tests of those whom his officers supervise, said Hurtig, but, "oftentimes, we don't need a drug test to tell us something."
"Methamphetamine just does so much damage to a person in such a short period of time," he said. "You'll see their teeth start to rot away. You'll see the bone structure in their face change. You'll see them have scabs all over their body from picking at their skin."
When fentanyl first hit the area, former Manchester police chief Willard recalled, street dealers "were throwing bags of free heroin or fentanyl in people's cars with a phone number on it."
"People would line up to get this free stuff and they knew who to call to get what they were just ingesting for free."
Likewise, dealers will convince their customers to switch to meth, Willard said. "You have a very vulnerable but captive customer base that they completely manipulate and take advantage of," he said.
For him, the 2019 Mexico trip was eye-opening. "I saw the place where it was all happening, and then ultimately it was ending up on the streets of Manchester, and I think that's pretty sobering," he said.
The DEA's DeLena said the crystal meth that has been seized in New Hampshire has been 99% to 100% pure, "which is an absolutely insane and dangerous amount."
"The effects, because of the strength and purity of it, are exponentially different and more dangerous," he said.
Police expect to see a rise in crimes such as thefts and burglaries by meth users. "They're up all night committing these petty crimes," Yaris said.
That's not all.
Meth users typically have a heightened state of paranoia, accompanied by an "affinity" for weapons, Yaris said. "You see a lot of individuals with knives, machetes," he said.
Sleep deprivation from meth use also contributes to the user's psychosis. "Your whole sense of reality gets completely twisted," he said.
'A dangerous and scary drug'
Chris Stawasz, Northeast regional director of government affairs for American Medical Response, which provides ambulance services for Manchester and Nashua, said the number of violent encounters his ambulance crews have experienced has doubled in the past few years.
What's new, Stawasz said, is "poly-substance use."
"Not only are they taking something that's going to bring them down, they're taking something that's going to bring them up," he said. "The reaction of those two things is unpredictable, and it just makes them that much more dangerous to everyone around these folks."
It can be difficult to tell whether someone is having a mental health crisis or is under the influence of crystal meth, Stawasz said. He worries for the safety of first responders. "It's a dangerous and scary drug," he said.
There is no antidote for crystal meth, Stawasz said. "With an opioid, you give Narcan and you see an immediate reversal that tells you right away you know what you're dealing with," he said.
But with meth users, "There's nothing that we can give them that's going to reverse the effects of that drug," he said. "All we can hope to do is chemically sedate them so they don't injure themselves."
Manchester police Sgt. Yaris also worries about the safety of patrol officers.
"You're going to be dealing with individuals that are wired, up all night, and then their false perception of reality, just the lack of sleep alone, is enough for these individuals to start having these horrible hallucinations and complete loss of what reality is," he said.
"Law enforcement has to step in, and we have to de-escalate an individual who may not be receptive to our presence."
Robert Quinn, New Hampshire's Commissioner of Safety, said his department is developing specialized training for first responders on dealing with people high on meth. He expects it to be rolled out in March.
Quinn said the partnerships developed among law enforcement agencies at the federal, state, county and local levels to combat the opioid epidemic already are mobilizing to address this new threat on the supply side. But he said prevention and treatment resources will be just as critical to reduce the demand.
That's precisely why DeLena has begun speaking with prevention groups about the influx of meth in the state. "We did such a good job here in New Hampshire educating people on the dangers of fentanyl, and we need to do the same things now when it comes to this," he said.
'Easier to get than a six-pack'
Celeste Clark, executive director of Raymond Coalition for Youth, said DeLena's recent presentation on meth to her prevention organization reminded her how difficult it was to get people to listen when prescription drug misuse was becoming a problem here more than a decade ago.
"Fast-forward to today and here we are still working through an opioid crisis that has taken thousands of lives and destroyed countless families," Clark said. "This is why we need to talk about it."
U.S. Probation's Hurtig said he's worried about the younger generation, "and how this can grab ahold of them," he said. "Because it's just easier for kids to get pills and meth and other stuff than it is to get a six-pack of beer."
"People can't be in denial, that it isn't in their communities," he said. "It doesn't matter whether you're in Manchester or Windham, it's going to hit all communities."
U.S. Marshal Willard remembers talking with police chiefs from the Midwest when opioids were first ravaging communities here. They sympathized, he said.
But they also told him: "Thank heaven you're not dealing with meth.
"Because when you do, violence will follow."